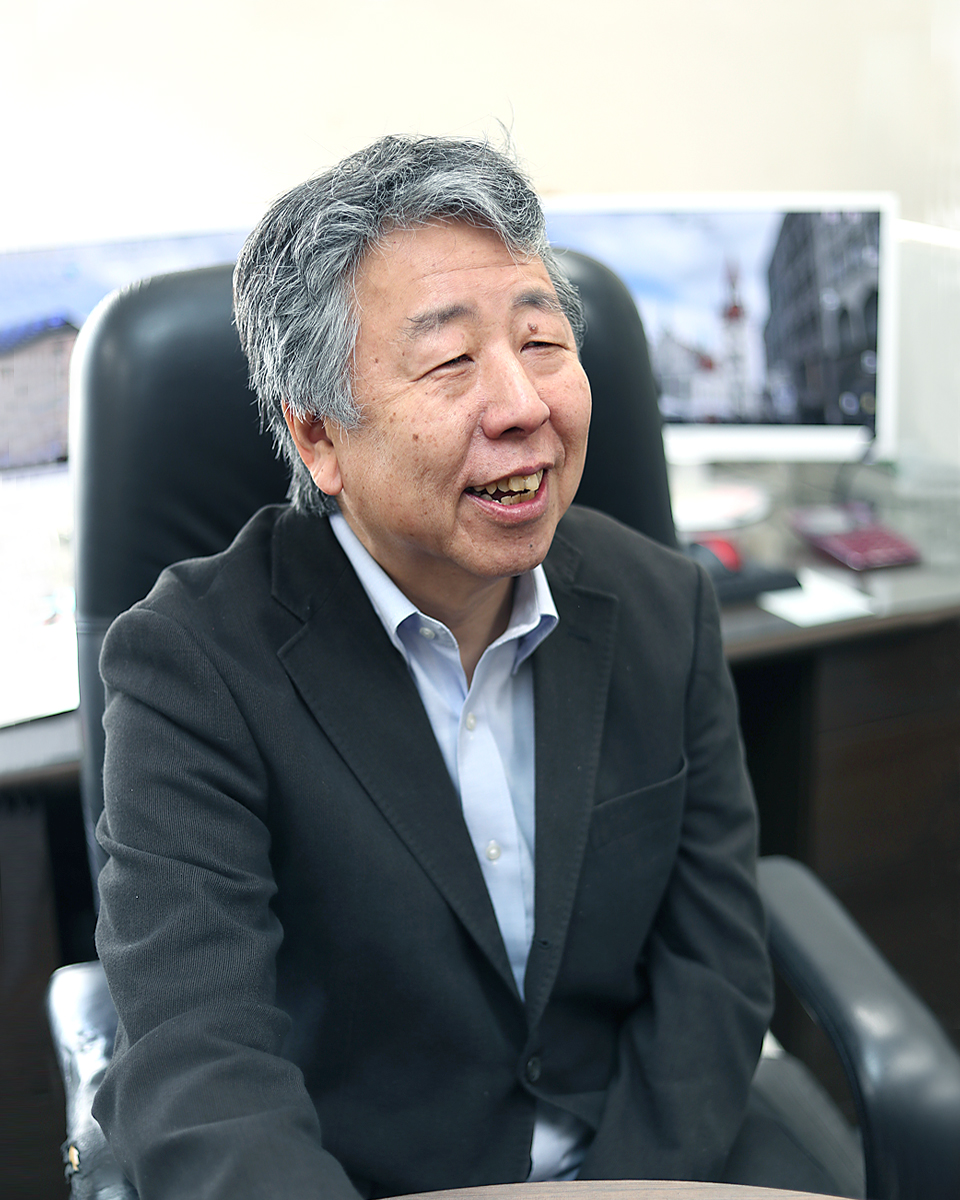 Top Message
We are like a big family who love fishing. We look forward to welcoming people who have dreams.


What do you think the charm of fishing? Fishing will be improving quickly with a bit of adjust then get compliment from your friends and family.
When I drop a line into the nature always come to mind that compliment to my progress and everyone's smile. I love this kind of relax fishing but I do not stick to the fishing tackles. If the president is particular about the products the employees will not be able to look at the customers. This is also one of reason why we have grown with this free mind.


Our mission is to arrange the exciting products to worldwide anglers. USA fishing market size is the No.1 and here Japan is the No.2 but I am sure that the Japanese fishing tackle quality is the best in the world. In the future we will keep promotion our private brand to overseas and will be held an "ALL JAPAN" exhibition with gathering Japanese manufactures at some countries to make everyone's happy .


Our company like a big family who love fishing.
I am just role as company president but it's just a title that I am like a father of them. I may give them some warning just as like a parent but I think my job is basically just watching over from afar. I also do not the decision making of products that the employees do that and keeping encourage them to try whatever they want to do. Up to now the person who made a new apparel brand by himself from the beginning and when our regular exhibition Ebessan Festival (face-to-face) in Nishinomiya was cancelled due to Covid but the young team of the company took on the challenge to make use of an online ordering and it was a great success. In fact, the fishing tackle industry is stronger in a recession and the stability of the industry which is not directly affected by economic situations is also great attraction.


We are looking for people who have dreams. We have a lot of people who love people and want to make their dreams come true connect with people. Let's work together to arrange exciting products to the world. We expect people who enjoy their work and challenge themselves to achieve their dreams.
We expect people who have dreams!
Our Vision

我々は、我々と我々にかかわる全ての人を幸せにするために、企業を繁栄させることで社会に貢献したいと思っています。
我々はビジョンを共有できるパートナーを創り、目的&手段を共有できるパートナーに利益を還元することで釣具業界の将来を創りたいと考えています。
自らの人間力以上の会社組織を作らず、人に感動を与え笑顔にできる会社を創る。
Company profile,
| | |
| --- | --- |
| Company name | TANIYAMA SHOJI., LTD. |
| Company address | 5-28, Tsutogawa, Nishinomiya City, Hyogo 663-8233 Japan |
| T E L | 0798-36-2233 |
| F A X | 0798-36-5522 |
| Representative | President Norikazu Taniyama |
| Date of establishment | August 12, 1946 |
| Employees | 70 people |
| Our business | Fishing gear wholesaler business |
Head office
5-28, Tsutogawa, Nishinomiya City, Hyogo 663-8233 Japan
TEL.0798-36-2233
FAX.0798-36-5522
East Japan Sales Office
#201 Berge Kusanagi 2-19-48 Kusanagi, Shimizu-ku, Shizuoka City, Shizuoka 424-0886 Japan
TEL.054-345-5726
FAX.054-345-5749
About Us
沿革
2019

(株)GFL 物流子会社設立

2015

販売店向けBtoBサイトの運用開始

2014

福岡でルアーフェスタを開催する

2009

少量多品種の出荷に対応するため本社に物流センター設置

情報化の統一のためSmartCenter構想着手

2008

日本釣具の優秀さを世界に伝えるためマーケットを世界に広げる

「えべっさん祭」が30周年記念の展示会となり、過去最大のお客様を集める

2004

雷魚専用リールをダイワ精工と共同開発する

2002

KAMIWZAの販売を開始

関西でオフショアのシーバスボート釣りに力をいれエアマーク立ち上げる。
関西で最大の問屋の展示会開催(年2回)

2001

邪道の販売を始める

1998

バレーヒルブランドの拡大に伴って流通拠点にするためバレーヒル倉庫竣工

基幹ネットワーク強化のため経理室改装

1997

MoterGuideのセールスが世界第2位の販売台数になる

米国製スパイダーワイヤー日本代理店となる
フライブランド「グレイン」を立ち上げる

1996

バンダイとのコラボレーションルアー「グランダー武蔵」発売開始

東日本エリアのプロショップ営業に東日本営業所を設立

1995

「Deps」の販売総代理店を開始

1994

韓国工場ファイブスターと生産協力体制を確立させる

1993

世界第3位のリールメーカー「ZEBCO」と国内代理店契約を結ぶ

1991

釣具大型チェーン店の顧客満足をかなえるため「特販事業部」を発足

1990

ルアー釣りの普及にオリジナルブランドを販売する事業部「バレーヒル事業部」を発足

雷魚のブランド「GUNGUN」を新家氏と協力し立ち上げる
アメリカJAWTEC社と国内販売契約結ぶ

1989

ルアーの本場アメリカよりルアーの直輸入開始

子供たちの購入を基軸にした「WINNERS」ブランドを立ち上げる
沖縄フィッシャーマンと販売協力を開始

1979

商売繁盛のえべっさんにあやかって「えべっさん祭」売り出し開始

1967

事業拡大に本社ビルを西宮市津門川町で竣工

1950

法人化

1946

8月、兵庫県西宮市池町10-11にて、釣具卸売業として創業